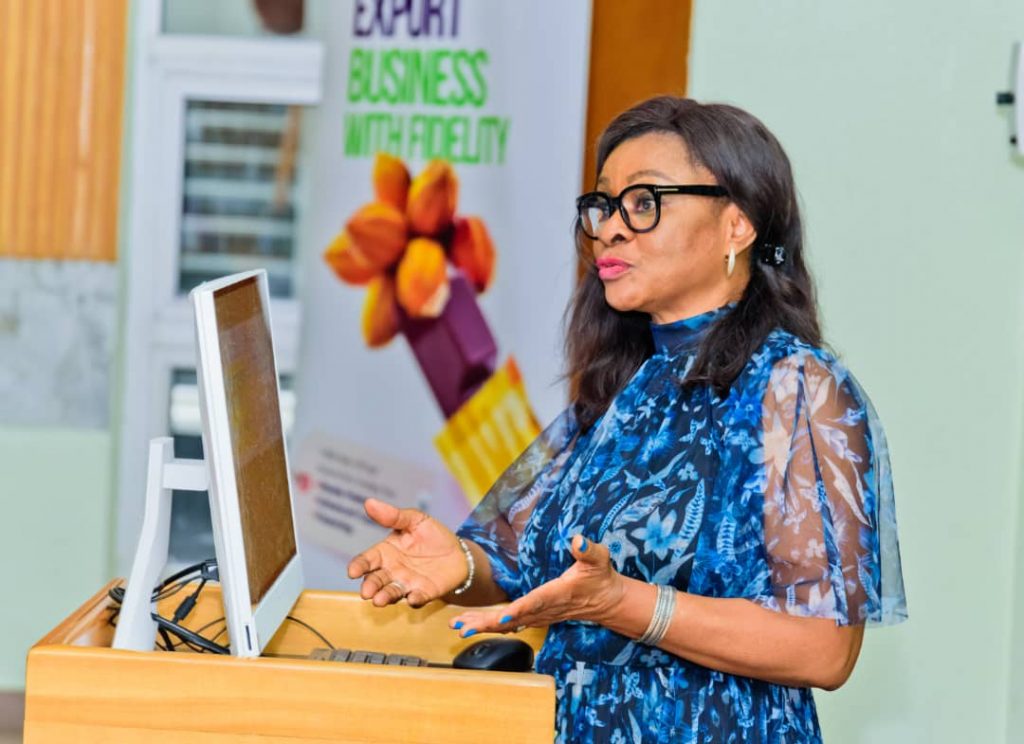 Nugata Consults Limited presented a paper on "Developing Quality Certification for Non-Oil Export" at the recently concluded Course 11 of the Fidelity Bank EMP at the Lagos Business School. The Fidelity Bank Export Management Programme (EMP) is designed and delivered by the Lagos Business School (LBS) Operations Management Faculty to provide exporters/export-related businesses, regulators, policy makers and financiers with the practical knowledge and business management skills to effectively compete in the global market. The EMP is open to both aspiring and experienced exporters. The vulnerability of the national economy to volatile oil prices underscores the need to diversify the export base from oil to non-oil exports.
An exporter basically needs to: i) identify the products to export, the market opportunities ii) assess the risks e.g. restrictions to exporting to the country/countries identified; iii) determine market entry i.e.  to sell directly, find a distributor, partner with someone in the importing country etc., iv) be acquainted with major players in exports and v) get export training. The non-oil exports have to meet international standards for safety and quality, the requirements of the importing country which is driven by customer demands and also the documentation requirements for international trade.
The principal non-oil sectors are agriculture and manufacturing. The Federal Government of Nigeria has identified about 22 non-oil products for export according to the Nigeria Export Promotion Council (NEPC). They include palm oil, cashew, cocoa, soya beans, rubber, rice, petrochemical, leather, ginger, cotton, shea butter, tomato, banana and plantain. The Central Bank of Nigeria (CBN) provides affordable finance to improve the productivity of the agricultural sector such as the Anchor Borrowers Program (ABP) and Commercial Agricultural Credit Scheme (CACS). Agricultural activities provide livelihood for many Nigerians unlike the wealth generated by oil which has a limited reach. Improved agricultural productivity is required to satisfy domestic consumption and boost exports. Much higher price for the same volume of primary product can be achieved through value addition by processing, packing and upgrading the quality of agricultural products before export.
The food supply chain is a complicated, interconnected sequence of processes, operations and entities involved in taking food from farm to table. It starts from suppliers of raw material (seeds, farming machinery, pesticides, fertilizers etc.) to the producer (farm), through processing, storage/warehousing, logistics & transportation, distribution, market centres/retail outlets, food services & consumers. To meet export quality certification requirements involves implementation of Food Safety Management Systems (FSMS) such as Good Agricultural Practices (GAP), Good Hygienic Practices (GHP), Hazard Analysis and Critical Control Points (HACCP), Good Manufacturing Practices (GMP), Good Warehousing Practices (GWP), Good Transportation Practices (GTP) and Traceability.
A good knowledge of the relevant bodies that are involved in export is important. For agricultural products, they  include Federal Ministry of Agriculture and Rural Development (FMARD); Nigeria Agricultural Quarantine Service (NAQS); Federal Produce Inspection Service (FPIS) Nigerian Association of Chambers of Commerce, Industry, Mines, and Agriculture (NACCIMA); Standards Organisation Of Nigeria (SON); National Agency for Food and Drug Administration and Control (NAFDAC); Nigeria Customs Service (NCS); Nigerian Export Promotion Council (NEPC); Institute of Public Analysts of Nigeria (IPAN); Central Bank of Nigeria (CBN); Commercial Banks; Certification Bodies such as Bureau Veritas, SGS, NiCert; Export Agents /Exporters; Freight Forwarding Companies; Pre-shipment Inspection Agents (PIA); Monitoring & Evaluation Agents (MEA).
The food export market is driven by increased consumer awareness hence retailers demand that farmers and growers use production methods that reduce the use of chemicals, reduce the impact of farming on the environment (Land and aquatic), ensure efficient use of natural resources, and safeguard the welfare of workers, farm animals and sea life. There is also legislation which puts pressure on food producers to grow safe and healthy products in a responsible manner. Buyers are demanding public standards (national, regional & international) and private standards.  The private standards could be consortia standards e.g. GSMA/GCF (Global Certification Forum) for high technology sector and GLOBALG.A.P., BRC and SQF for the food sector; environmental integrity and social equity standards (Fairtrade, Forest Management Certification) and retailer private standards (e.g. Carrefour, Metro, Tesco, Unilever). Market access requirements include technical regulations and sanitary & phytosanitary (SPS) standards. Technical regulations and SPS standards are backed by legislation, mandatory and enforced by government.  Technical regulations ensure quality of exports, protection of human life or health, protection of animal or plant life or health, protection of the environment, prevention of deceptive practices and protection of essential security interest.  Publics standards and private standards are requested by buyers and customers. Another type of market access requirements are buyer's specific requirements (Codes of Conduct) or contractual requirements. Buyers demand food safety certification. Many buyers in the EU require the implementation of a HACCP-based food safety management system and traceability. The most important food safety management systems in the EU are GLOBALG.A.P., BRC (British Retail Consortium) Global Standards, IFS (International Food Standard), FSSC 22000 (Food Safety System Certification) and SQF (Safe Quality Food). These food safety management systems are recognized by the Global Food Safety Initiative (GFSI), which means that any of them would be accepted by multiple retailers.   International trade depends on the exporters' ability to meet international certification standards, buyer specifications and the importing country safety and quality requirements including documentation. The exporter should also be consistent and reliable to ensure credibility for Nigerian Exports prevent export rejections which  not only lead to economic loses but also a lack of consumer confidence in the country's products, loss of integrity and possible blacklisting/banning of the country's export. Exporters would need to engage Certification Bodies to audit their facilities and production processes for them to obtain the food safety certification required by buyers.
The National Competent Bodies of a country can issue export certificates that are acceptable in international trade such as the Phytosanitary Certificate issued by the Nigeria Agricultural Quarantine Service (NAQS) for export of agricultural produce and export certificates issued by NAFDAC such as the Combined certificate of manufacture and free sales (CCMFS) issued for registered food, cosmetics, medical devices; Certificate of pharmaceutical products for registered Drugs only; Health certificate for processed and semi processed food commodities; Export Certificate issued for goods transported through land borders for ECOWAS market; Certificate of free Sale for products that are not manufactured in Nigeria but are sold in Nigeria.
Exporting non-oil commodities and finished products have the potential to improve Nigeria's foreign exchange earnings, increase employment opportunities, produce sustainable poverty reduction and increase the internally generated revenue both at the state and federal levels.