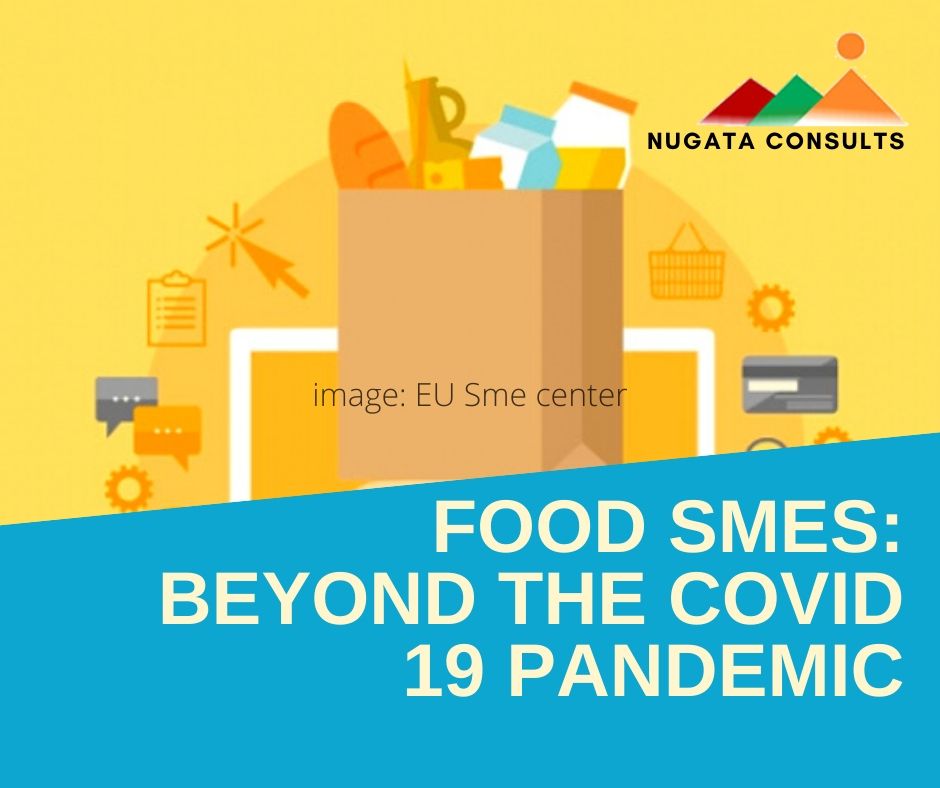 As SMEs grapple with the COVID-19 pandemic, one thing is clear, which is that there is now a new normal and ways of doing business have to change!  The new normal includes working from home, e-commerce and increased use of the virtual space for obtaining information and attending meetings, webinars and conferences. The COVID-19 lockdown led to disruptions in the food supply chain which left processors struggling to get raw materials to continue production and coping with staff attendance and social distancing, while farmers had serious challenges getting farm produce to the processors, markets or end-users. It is not unlikely that issues of food safety, food hygiene, personal hygiene, sanitation, emergency preparedness and response, documented procedures may have surfaced which are part of the food safety management system (FSMS).
The WHO COVID-19 food safety guidance for food businesses states that the food industry should have Food Safety Management Systems (FSMS) based on the Hazard Analysis and Critical Control Point (HACCP) principles in place to manage food safety risks and prevent food contamination. Food industry FSMS are underpinned by prerequisite programmes that include good hygiene practices, cleaning and sanitation, zoning of processing areas, supplier control, storage, distribution and transport, personnel hygiene and fitness to work – all the basic conditions and activities necessary to maintain a hygienic food processing environment. It is imperative for the food industry to reinforce personal hygiene measures and provide refresher training on food hygiene principles to eliminate or reduce the risk of food surfaces and food packaging materials becoming contaminated with the virus from food workers.  This is a good time for SMEs to re-evaluate themselves and begin to pay more attention to food safety management systems and training as a strategic move and part of their business continuity plan and sustainability.
A number of online webinars that I participated in, were organized by various organizations to help SMEs and entrepreneurs navigate these challenging times and work out mitigation strategies to sustain their businesses which have the production and financial aspects required for business growth and sustainability. The challenges faced by SMEs include access to raw materials, access to markets, low sales volumes and concerns about repayment of loans collected from financial institutions. Panel discussions highlighted the importance of the establishment of a strong financial management system and controlled budget, managing liquidity, ability to do scenario analysis, cost analysis, business continuity plan, access funds, food safety, food security and training.
SMEs outnumber large companies and also employ many more people. They drive the economies of many developing countries. The COVID-19 pandemic should therefore stir up SMEs in agribusiness and food processing to be more deliberate and rejig their systems to have a structured approach to food safety and quality and apply best practices using national and international standards and to meet food safety and quality requirements to ensure they withstand any disruptions that may occur in future.  This means that SMEs must obtain copies of the national and international standards and regulations such as the national Codes of Practices, GAP Regulations, GMP Regulations, ISO 22000 (Food Safety Management Systems-Requirements for any Organization in the Food Chain) Standard and implement them. The necessary documentation of procedures and processes should be in place.  You may need to employ the services of a consultant.
Agribusiness is the business of agricultural production i.e. agriculture as a business and therefore is not expected to operate at the level of subsistence farming. Farmers need to shed the toga of subsistence level mindset and invest in mechanized farming, Good Agricultural Practices (GAP), Good Hygiene Practices (GHP) and training.  Farm production should be in accordance with national and international standards while value addition is encouraged.  When this is done it is easy to meet the requirements of 2nd Party audits which is an external audit performed on a supplier by a customer or by a contracted organization on behalf of a customer and 3rd party audits performed by certification bodies for GLOBALG.A.P. certification for example. Farmers could engage experts such as GLOBALGAP Farm Assurers to help simplify the GLOBALG.A.P. standards and obtaining the certification.
The COVID-19 pandemic has brought to the fore some positives such as the increased use of the virtual space and e-commerce which are expected to accelerate business. While e-commerce is good, it presents the challenge of regulatory control and compliance to ensure that consumer health is protected and that false claims to deceive the consumer are not made on advertised products. The Food producers and processors therefore need to maintain high levels of standards and ethics and also self-regulate. Lessons learned from the COVID-19 lockdown include the fact that demand for food would increase, so current food production output should change. Technology and mechanization are at the core of food production. Countries have to be reasonably self-reliant and able to produce enough food to feed their population and not depend on importation from other counties which is not easy with a global lockdown such as is being experienced now. The question to SMEs is how do you maintain productivity and efficiency, safety and quality?