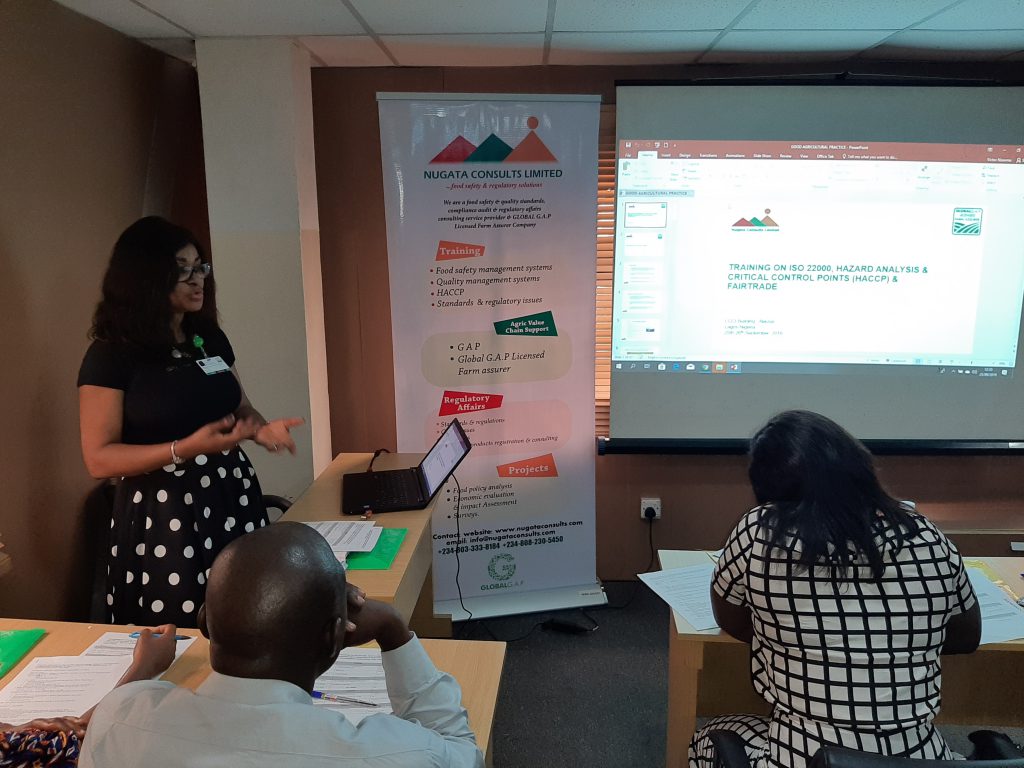 The 2-day training on ISO 22000, HACCP & Fairtrade held on 25th-26th September 2019 in Lagos was organized by Nugata Consults Limited bearing in mind what participants particularly SMEs were expected to know and be able to think, feel and do after the training. This in a nutshell means they should have the confidence to fully apply what is learnt!
SMEs are important in growing the economy therefore the capacity to produce safe and quality food is important for growing their business locally and internationally and achieving that aim. The training was therefore designed to be a "teaching" training. The methodology was PowerPoint presentations and workbook exercises that involved group work, questions and answers. It concluded with the assessment of the training by participants.
The participants learnt the use of the PDCA (PLAN-Do-Check-Act) Cycle in ISO 22000 (Food Safety Management Systems). The topics presented at the training were Food Safety Management Systems, an overview of ISO 22000), prerequisite programmes with a focus on Good Agricultural Practice (G.A.P.), fundamentals of Fairtrade. The applicable ISO 22000 clauses were used for the presentations on role of top management, needs of interested parties (statutory, regulatory and customer requirements) and Hazard Analysis & Critical Control Points (HACCP). The group work done was on G.A.P. and HACCP.
Attendance at the training showed a good representation of the relevant operators responsible for the provision of safe food. They included CEOs/MDs of farms, processing companies and an analytical laboratory; production manager; quality assurance; internal audit; regulators and intern.
Based on the training assessment form participants rated the training content and delivery highly and expressed delight to have been participated in the training.