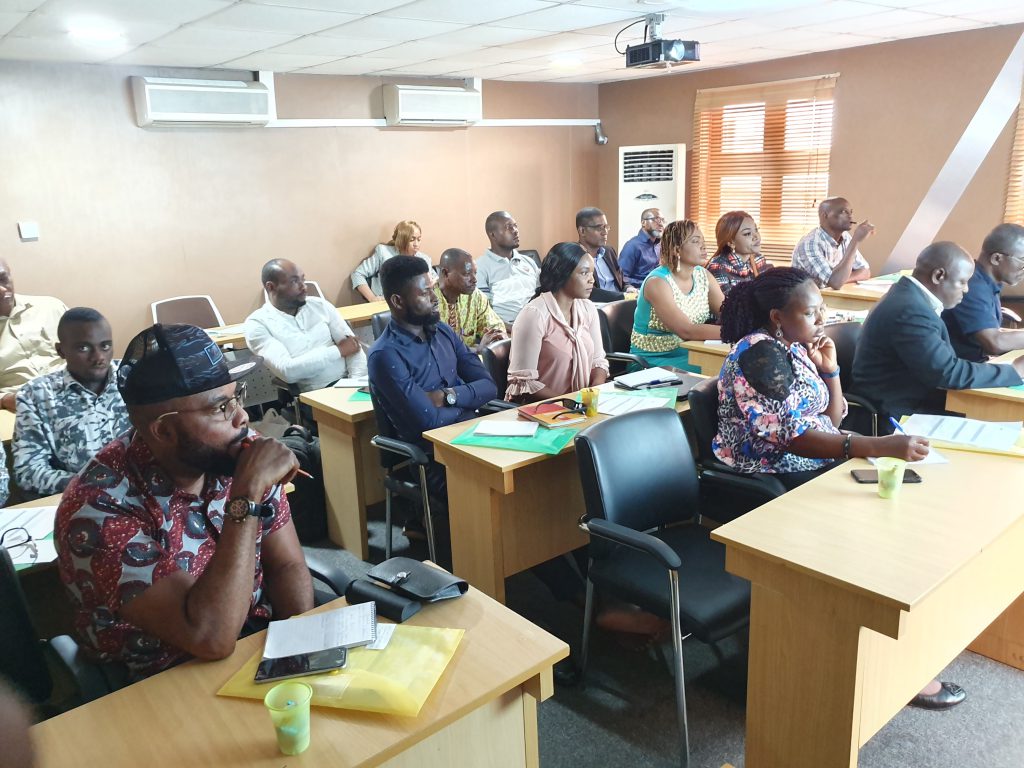 The Cosmetics Production and Good Manufacturing Practices Training was organized by Nugata Consults Limited in Lagos on 16th-17th October 2019 to bring the Cosmetics Industry up to speed on best practices and current trends in the cosmetics sector and to enable them meet regulatory requirements concerning staff training.
Participants included Managing Directors; Quality Assurance Managers, Production Managers, Quality Control Managers; Research & Development Managers and Regulators. The Presentations were delivered by facilitators with strong regulatory and research background namely: Mrs. Jane Omojokun (former Head of Regulatory Affairs at NAFDAC/Managing Director, Nugata Consults Limited); Dr (Mrs.) Margaret Ilomuanya (Senior Lecturer, Pharmaceutics & Pharmaceutical Technology, Cosmeceutical Production Development, University of Lagos) and Mrs. Mosunmola Samuel (Representing the Director-General Standards Organization of Nigeria). Group work was on GMP Guidelines/Inspection checklist for Cosmetics. Training topics covered Cosmetics Good Manufacturing Practice; Formulation & Production of Cosmetics Containing Plant/Animal Extracts; Stability Evaluation of Topical Products; Contract Manufacturing of Cosmetics; Standards for Cosmetics & Household Products; Cosmetics Products Registration and Cosmetics Market Growth.
The use of natural ingredients is becoming mainstream. Stability evaluation and cosmetics good manufacturing practices are important factors in the production of safe and quality cosmetic products. Globally, the cosmetics or beauty products industry remains impervious to the ups and downs of economic downturns. The growth is driven by changing lifestyles, rising demands for skin and sun care products due to varying climatic conditions, strong desire among men and women to retain youthful appearances, the rising trend in online purchase of cosmetic products amongst other factors.  A published research on Global Cosmetics Products Market-Analysis of Growth, Trends and Forecasts (2018-2023)" showed that the cosmetics market valued at USD 532.43 billion in 2017, is expected to reach a market value of USD 805.61 billion by 2023, registering a Compound Annual Growth Rate (CAGR) of 7.14% during 2018-2023 (Source: Reuters). Contract Manufacturing and Private Label Cosmetics Manufacturing present opportunities to reduce marketing risk and maximize operational efficiencies and getting into the business fast without large startup or inventory costs respectively. However, selling products under your name through Private Label Cosmetics Manufacturing makes you legally responsible for the product sold under your name in all aspects including labeling and product claims which are regulated by the National Agency for Food & Drug Administration & Control (NAFDAC). The cosmetics name owner will also be the first to be contacted if a consumer experiences any adverse reactions to the product. This means you should educate yourself about such things as stability, shelf life, and Product Liability Insurance. The abundance of herbs that are beneficial in cosmetics production locally also presents an untapped business opportunity for the cosmetics industry to diversify their production business by investing more in research and development and producing herbal cosmetics ingredients and essential oils for use, sale and export. ISO standards on Cosmetics GMP, ISO 18416:2007- "Cosmetics, Microbiology, Detection of Candida albicans," will help reduce cases of infection from cosmetic products by providing laboratories with a microbiological examination to ensure their quality and safety and ISO 22716:2007 Cosmetics – Good Manufacturing Practices (GMP) – Guidelines on Good Manufacturing Practices provides the guidelines.
Based on training assessment forms the training was highly rated by participants.